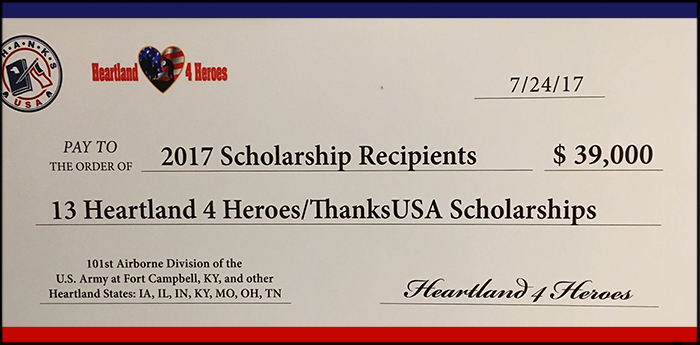 Heartland 4 Heroes and Thanks USA will be holding their 6th Annual Golf Tournament Fundraiser, in conjunction with Red Cloud Food Services, Inc. on July 30th, 2018, at The Governor's Club in Brentwood, Tennessee.
Heartland 4 Heroes/ThanksUSA scholarships benefit the spouses and children of those serving on Active Duty. Heartland 4 Heroes/ThanksUSA provided thirteen (13) scholarships to military spouses and children through this fundraiser.
ThanksUSA is a national non-profit organization that provides need based college, technical and vocational school scholarships to the families of the Armed Forces, the Reserves and the Coast Guard. Red Cloud Food Services Inc. teamed up with ThanksUSA in 2013 to create Heartland 4 Heroes/ThanksUSA scholarship event and since then has awarded 34 total scholarships valued at $102,000.
All proceeds raised at the tournament will go towards Heartland 4 Heroes/ThanksUSA scholarships within the Heartland of America. Participants in the Brentwood Invitational will include Wounded Warriors and Army personnel from Fort Campbell and around the Country. RCFS encourages individuals and local businesses to join its effort and demonstrate their commitment to those serving in the Military by becoming sponsors and/or participating in the tournament. Goody bags will include gifts, prizes and more!
DOWNLOADS & LINKS
Click Here to download the Sponsorship Form
Click Here for videos and information on the Heartland 4 Heroes/ThanksUSA Scholarship